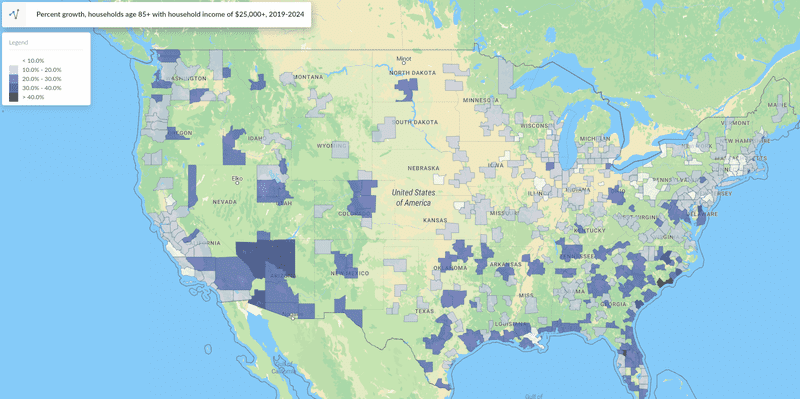 Forecast growth in households age 85+ with at least $25,000 in household income, 2019-2024
Highlights
Industry-standard data for demand forecasting typically caps out at age 75+, almost 10 years before the typical age of assisted living entry.
Growth for cohorts age 75+ and age 85+ may differ up to 25 percentage points over a five-year period at a local-market level, leading to warped responses by developers and investors.
Only half the variability in growth of income- and net-worth-qualified households age 85+ is explained by the same growth of age 75+ households.
Fundamentally, the reliance on insufficient data on future demand growth has led to suboptimal outcomes, with industry supply growth outstripping demand growth in many places, while missing some of the strongest undersupplied market opportunities.
Better demand-growth data can lead to seniors housing investment outperformance, avoiding truly oversupplied markets and targeting markets with stronger seniors housing demand growth.
Increasing investment in seniors housing, declining occupancy rates
Seniors housing is increasingly of interest among real estate investors and developers as demographic and socioeconomic trends – aging population, increased longevity and smaller family sizes – drive increased utilization of seniors housing. With this tailwind, ULI's Emerging Trends in Real Estate1 listed seniors housing as the second-strongest US property subsector for investment prospects.
Over the last one-, three-, five- and ten-year periods, the seniors housing subsector outperformed traditional apartments and the overall NCREIF Property Index2 (Figure 1). Unsurprisingly, transaction volume has also been substantial, totaling $8.7 billion in 20181. However, occupancy rates for assisted living most recently peaked in 2015 as industry supply growth outstrips demand growth (Figure 2).
Institutional real estate investment returns by property type
Annualized total return through first quarter 2019 (Figure 1)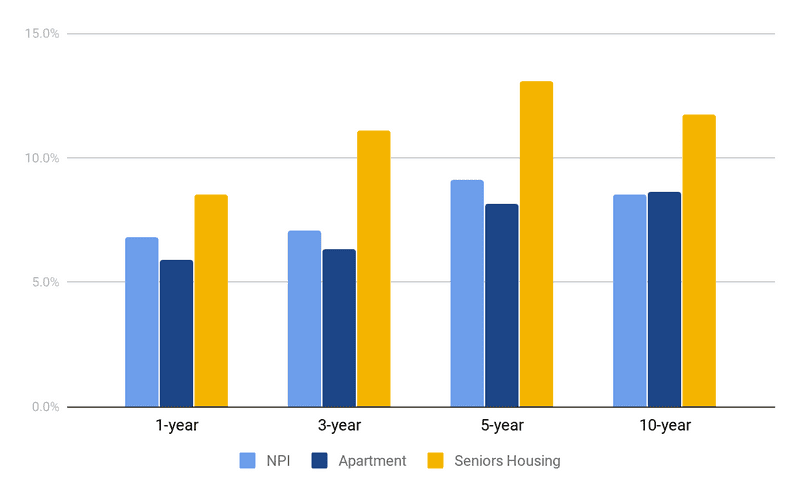 Primary market seniors housing occupancy rates by property type (Figure 2)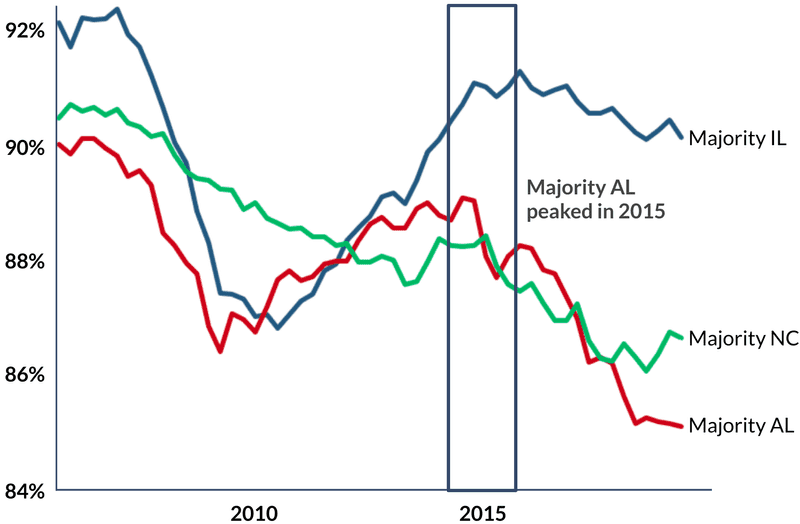 Demographics-driven growth potential
With the average age of entry for assisted living clustering around 83 years old, Baby Boomers – born 1946 to 1964 and totaling 73 million on 20193 – are still about a decade away from the prime age of entry for assisted living, with the oldest Boomers only at 73 years old.
Legacy-generation data, however, mismeasures that growth, with household data by age and income or net worth limited to households age 75+. This creates another gap of roughly 10 years between the data ceiling and the actual age that residents move into assisted living, and drives premature investment and development for the market.
Data for population and households age 75+ is directionally related to age 85+. But it's not a replacement for reliable data on population and households age 80+ and age 85+.
Seniors housing categories
Seniors housing may be treated as a single subsector for investment allocation and discussion purposes. However, there are several types of seniors housing and investor interest varies among them. Seniors housing categories4 include:
Skilled Nursing Care (NC) – Housing with the highest level of healthcare outside hospitals where a physician supervises care for each resident and medical staff is always on site.
Assisted Living (AL) – Apartment or shared housing units with support services for residents who need assistance with day-to-day activities and group amenities, such as dining areas and recreational programs.
Independent Living (IL) – Apartment units designed specifically for seniors that are more compact and easier to navigate and maintain. Properties often include recreational centers and activities on site.
Continuing Care Retirement Communities (CCRC) – Facilities that combine independent living, assisted living and skilled nursing in one location, allowing residents to stay in one area as their needs change over time.
Memory Care (MC) – Skilled nursing properties that specialize in care for patients with Alzheimer's disease, dementia and other memory problems.
Age-Restricted Communities – Apartment properties structured for housing the elderly where at least 80% of occupied units have at least one 55+ person in the household.
Does mismatched data cause bad real estate decisions?
To measure the "mis-measurement" generated using data on households age 75+ as a proxy for households age 85+, we performed regressions of historical growth for households age 85+ with at least $250,000 in net worth on the growth rate for households age 75+ with at least $250,000 in household net worth. Error metrics from the regression allow us to estimate the variability in the relationship between younger and older senior household growth. Based on StratoDem Analytics data for older senior households, for US census tracts5 with more than 100 residents age 85 or older:
Only about half of the variability in growth of income- and net-worth-qualified age 85+ households is explained by the same growth of age 75+ households6 (R2 of roughly 0.5, Figure 3).
Age 75+ household growth only reliably estimates age 85+ household growth within 15-20 percentage points over a five-year period7.
When looking forward, only about 35-40% of variability in forecast growth of income- and net-worth-qualified age 85+ households is explained by the same growth of age 75+ households8 (R2 ~ 0.4)
Historical household growth rates
Households age 75+ and 85+ with at least $250,000 in net worth, 2014-2019
(Figure 3)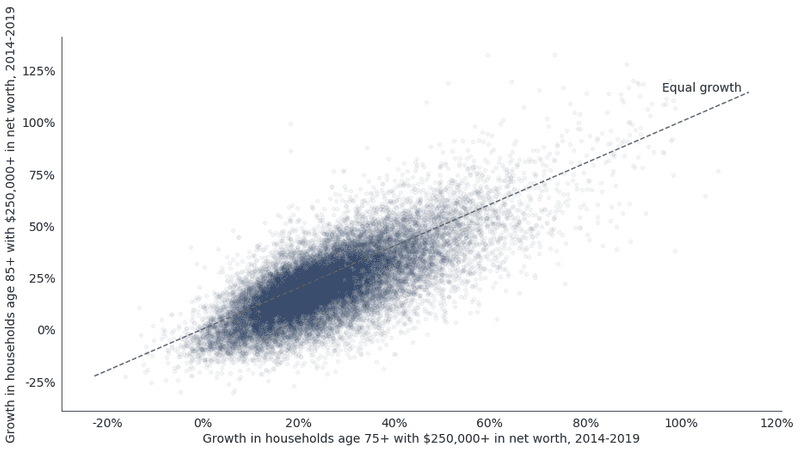 Table 1: Model summary statistics
2014-2019
2019-2024
MoE*
R2
MoE*
R2
All HH
+/- 15.9%
0.57
+/- 15.2%
0.54
HHI ≥ $25k
+/- 20.1%
0.50
+/- 17.4%
0.38
NW ≥ $250k
+/- 23.3%
0.54
+/- 16.7%
0.37
Impacts at the neighborhood level
At a local level, these gaps in growth of cohorts age 75+ and 85+ can make huge differences in seniors housing product placement. Many markets contain census tracts where growth in net-worth-qualified seniors age 75+ differs by more than 25 percentage points from growth in net-worth-qualified seniors age 85+. Some retirement destinations, for example, experienced much stronger growth for younger seniors. As a result, those relying on data sources that top out at 75+ are putting AL supply on the market when it doesn't always match actual demand growth patterns.
Diverging-growth markets
Markets containing census tracts where age 75+ growth outpaced age 85+ growth substantially (with gaps of at least 25% over a five-year period):
Sumter County, FL (The Villages)
Marin County, CA (North of San Francisco)
St. Johns County, FL (St. Augustine)
Glynn County, GA (Brunswick, GA)
Spartanburg County, SC
On the other hand, many markets contain census tracts where age 85+ growth outpaced age 75+ growth substantially (with gaps of at least 25% over a five-year period):
Yuma County, AZ
Pueblo County, CO
El Paso County, TX
St. Lucie County, FL
Cowlitz County, WA (North of Portland, OR)
Growth differentials for seniors housing REITs
Growth estimates can also differ markedly across portfolios of seniors housing assets. For seniors housing/healthcare REITs, the gap between age 75+ growth and age 85+ growth in surrounding market areas (5-mile radius around each seniors housing property) may be substantial. The median submarket for properties held by REIT A grew 25.5% over the past five years for households age 75+ with at least $250,000 net worth (NW), but about 8 percentage points slower for age 85+ households (+17.5%). In absolute terms, growth measured for age 75+ households was five times as large as for age 85+ households (+740 households versus +150 households).
Growth in households age 75+ and 85+ with $250,000+ net worth
5-mile rings around seniors housing properties, 2014-2019
(Table 2)
REIT A
REIT B
% growth
Change (#)
% growth
Change (#)
75+, $250k+ NW
+25.4%
+740
+27.2%
+671
85+, $250k+ NW
+17.5%
+150
+18.7%
+137
Driving precision in seniors housing market analysis
Seniors housing has strong longer-term demand prospects. However, decisions made based on limited data contributed to a mismatch of supply growth and demand growth for assisted living in particular. StratoDem Analytics built data science models specifically to solve these types of problems and to avoid using data for age 75+ (described by a client as "not relevant for assisted living") for investment and development decisions in seniors housing. The industry as a whole must transition to using valid data for measuring market growth, avoiding faulty conclusions about market, submarket and portfolio demand potential.
---
1
Urban Land Institute (ULI), Emerging Trends in Real Estate 2019.
2
The NPI includes privately-held, non-taxable properties reported to the National Council for Real Estate Investment Fiduciaries (
NCREIF
) directly by its investment management members. For context, the NPI reflects aggregate performance for apartment, hotel, industrial, office and retail properties. Seniors housing properties are excluded from the aggregate as a non-traditional property type.
3
Generation definitions from
Pew Research Center
.
4
National Investment Center for Seniors Housing and Care (
NIC
)
5
A census tract is a geographic area, roughly equivalent to a neighborhood, defined by the US Census Bureau. On average, there are about three census tracts per ZIP code nationally.
6
0.5 R
2
for a linear regression of growth rate of households age 85+ with at least $250,000 in household net worth on the growth rate of households age 75+ with at least $250,000 in household net worth for census tracts, 2014-2019
7
Margin of error for the linear regression in (1) for 95% confidence is roughly +/- 23%
8
0.37 R
2
for a linear regression of growth rate of households age 85+ with at least $250,000 in household net worth on the growth rate of households age 75+ with at least $250,000 in household net worth for census tracts, 2019-2024