The size of the Millennial population cohort, defined as the 71 million people born from 1981 to 1996 1, has made this group a key demographic for study to understand consumer demand trends. With the oldest of this generation turning 37 in 2018, their impact on housing demand should shift away from student housing and studio multifamily units toward higher-end multifamily units and single-family housing. The demographic impact of aging Millennials will be slower – and in some markets, declining – growth in the young adult population.
While the StratoDem Analytics team was digging into young adult population flows and labor market trends – such as commuting patterns and live/work locations – a noticeable divergence was occurring across markets with distinct high and low growth markets for young adults – specifically, the 25-to-29 year old population cohort. Markets with high growth include Philadelphia, Washington, DC, and Boston and the low growth group includes Austin, Miami, and Los Angeles/Anaheim. Austin, however, stood out for the magnitude of this change as well as client interest in the market.
For some background, StratoDem Analytics is a data science firm utilizing new computational techniques to allow for combining previously disparate data sets into advanced modeling for demographic and economic forecasts and nowcasts. Nowcasts are estimates of where the data is at the current moment, when government lags behind. The data compiled and forecast by the StratoDem Analytics engine can also be broken into granular geographies, demographic cohorts, and cross-cohort segments to inform the firm's real estate clients' geospatial decision making.
From 2012 through 2017, the Austin 25-to-29 year old population expanded by over 5,000 people per year, for a total increase of 25,725 new residents in this cohort. This increase represents 16.2% cumulative growth for the period, at which time this cohort represented the mid-point of the Millennial birth years.
Post-secondary education is a significant demand driver for young adults from across the state and nation to move to Austin. The Austin area is home to 27 public and private universities and colleges, enrolling about 180,000 students as of 2015 2 , with the main University of Texas campus downtown accounting for nearly 30% of these students. Thus, net migration has a considerable impact on population growth for young adults in Austin generally, and the large cohort of Millennials exhibited how high these numbers could go.
Net migration of 25-to-29 year olds to Austin totaled more than 38,000, for 24% cumulative growth over the 2012 through 2017 period, accounting for the entirety of population growth in the cohort. Considering how fast this cohort was expanding over this period, this expansion would be tough to replicate. Simply to maintain a flat population for this cohort, Austin would have to experience a 1% increase in net migration of 25-to-29 year-olds from 2017 through 2022. With Millennials aging into older cohorts and fewer people aging into this group of young adults, this is unlikely to occur.
---
1 Pew Research Center, http://www.pewresearch.org/topics/millennials/
2 Greater Austin Chamber of Commerce, https://www.austinchamber.com/economic-development/austin-profile/education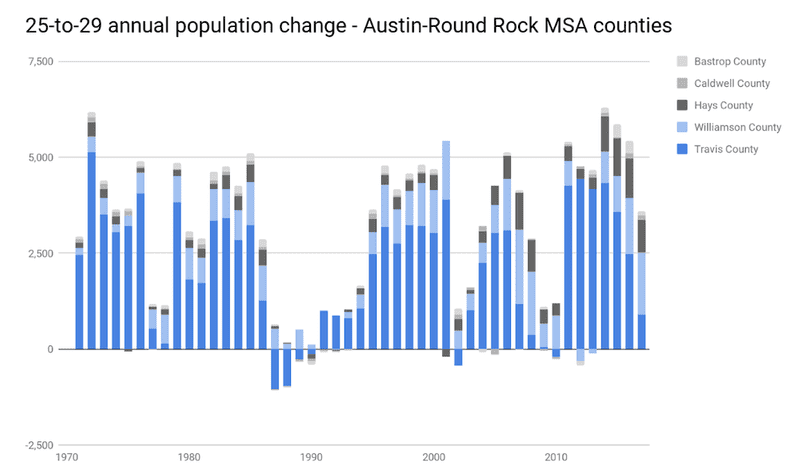 In the last two years of the most recent Census Bureau population estimates, Travis County, TX 25-to-29 population growth has declined from nearly 3,600 to under 900. The decline in growth in Travis County for the 25-to-29 population has been partially offset by growth in Williamson County, whose growth increased from around 900 to more than 1,600 in 2017.
What does the StratoDem Analytics engine say about future growth for 25-to-29 year olds in Austin? Per the 2017 Census Bureau estimate, the population change for this cohort slipped below its 15-year average of 3,890 last year. Over the next few years, this cohort is set to expand by the hundreds per year, instead of thousands.
Young adult population growth in Austin-Round Rock, TX MSA
| | 25-to-29 pop.growth | 30-to-34 pop. growth |
| --- | --- | --- |
| 2007-2012* | +14,561 | +23,950 |
| 2012-2017* | +25,725 | +29,163 |
| 2017-2022** | +2,686 | +11,467 |
Peak Millennial, as this piece is titled, is not just impactful to Austin, Texas. The Millennial shift into older cohorts affects the housing demand across the country. No longer the college students and early career professionals that the industry has been marketing to, they will seek different amenities, while remaining more likely to rent than earlier generations. The new college students and early career professionals may have different preferences, but, more importantly, there is considerably slower growth in that segment demanding housing.
---
Read our forecasting accuracy technical brief
StratoDem Analytics recently published a forecasting accuracy study proving a reduction in forecasting errors of 25% to 50% on vital metrics including population, household net worth, and incomes.