Senior housing demand growth will be uneven
According to StratoDem Analytics forecasts, most large senior living owners will see growth rates of net-worth-qualified senior household slow down as much as 10% from 2018 through 2023.
This story will likely not play out evenly across all owners. At the portfolio level, better-positioned owners, such as Spectrum Retirement and Pacifica, are forecast to see net-worth qualified household growth at roughly 1.6x that of lower-ranked owners over the next five years.
Among the large senior living REITs, Senior Housing Properties Trust has a 1.2x stronger positioning for net-worth-qualified senior household growth through 2023.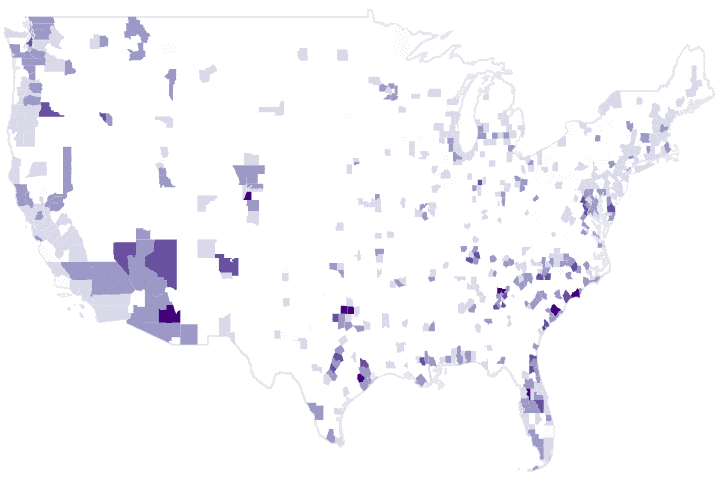 After the release of the 2018 ASHA 50 senior living owner rankings, the StratoDem Analytics team scraped addresses for publicly available senior living portfolios for 40 senior living owners. The StratoDem Analytics Engine then analyzed 5-mile rings around more than 5,000 properties to identify which owners have stronger outlooks for future market demand growth. The gap in future market demand growth between top and bottom large senior living owners? A 2x margin.
Using the the median properties in the Spectrum Retirement and Pacifica Senior Living portfolios as an example, those owners likely will experience more than 21% growth in households age 80+ with at least $250,000 in net worth in the surrounding market area. At the bottom end of the spectrum, some owners have lower than 12% for forecast growth.
Measurements of future independent living and assisted living market demand growth
Accurate household net worth estimation matters in senior living, particularly for assisted living. While the StratoDem Analytics Engine can provide estimates of households by net worth cuts from $25,000 to $2.5MM, our clients typically use $250,000 as a starting point for net-worth-qualified age 80+ households.
However, one of the main points our clients have realized is that the change in the future growth rate is one of the most predictive factors in value creation for real-estate-based assets. Using these 40 senior living owners as an example, the StratoDem Analytics Engine ranked owners by:
Presence in wealthier senior markets currently
Future market area growth outlook for net-worth-qualified senior households
Change in market area growth outlook compared to the past five years
Senior housing owners ranking
Portfolio Overview- Top 15 senior living owners by forecast 2018-2023 growth
| ASHA Rank | Owner Name | Median 80+ HH NW* | HH growth 2018-2023** | Delta HH growth 2013-2018-2023*** |
| --- | --- | --- | --- | --- |
| 42 | Spectrum Retirement | $221K | +21.5% | -5.0% |
| 23 | Pacifica Senior Living | $198K | +21.1% | -5.9% |
| 43 | Vi | $253K | +20.8% | -9.6% |
| 25 | Highridge Costa | $225K | +20.7% | -4.1% |
| 48 | Westminster | $155K | +20.5% | -13.5% |
| 49 | Merrill Gardens | $244K | +20.3% | -6.0% |
| 34 | Ensign Group | $195K | +20.2% | -6.7% |
| 41 | Kisco Senior Living | $271K | +19.9% | -6.7% |
| 6 | Senior Housing Properties Trust | $193K | +19.3% | -5.3% |
| 26 | USA Properties Fund | $272K | +19.3% | -5.9% |
| 1 | Brookdale Senior Living | $190K | +19.3% | -6.5% |
| 39 | HumanGood | $253K | +19.1% | -4.6% |
| 13 | National Health Investors | $182K | +19.1% | -6.2% |
| 5 | HCP | $206K | +19.0% | -5.3% |
| 38 | Covenant Retirement | $230K | +18.7% | -1.8% |